In 2011, the co-founder of Cirque Du Soleil y Creative Director, Gilles Ste-Croix and his wife Monique Voyer gave light to the creation of a show with the children of the community center "Entreamigos" in San Francisco Nayarit with the intention to fundraise for its programs. This was made possible with the support of Circo del Mundo de Cirque du Soleil who donated the equipment training equipment, friends and international artists who came from Canada, the company Cirrus Cirkus as well as over 100 local volunteers. In March 2011, the first performance of Circo de los Niños was "Cuando aún no existían los sueños".
As a result of this first creation of the project, Gilles Ste-Croix and Monique Voyer expanded their support for Circo de los Niños as a Circo Social project offering continued training to the children originally involved. This first impulse grew to become what is now the Circus Arts school, called Circo de los Niños de San Pancho.
In the spring of 2014, as a result of 24 months of training and intence focus, a new 90 minutes production titled "ORALE" was created and presented for a larger public. Sponsored and directed by its founders with the continued support of donated training and production equipment from  Cirque du Solei and Solotech, the colaborations of Circo de los Niños united more than 100 local volunteers and families of the participants.  In this presentation, which took place in the town´s Plaza del Sol with over 800 audience members, the 60 young students were the stars of the night. Thereafter, the show was invited to present at the Mayan Palace in Puerto Vallarta which helped once again to raise money for "Entre Amigos".
Performing in "Orale" gave the students the opportunity to closely experience the creative and technical process of a prodution, including direction, choreography, design and technical aspects .  A unique and valuable experience for many, especially for this town and its community who continue to be inspired and be invested in the arts for the community.
In the summer of 2014, the project solicited permission from Nayarit Government to use one of the previously abandoned warehouses in the town.  Since the original location inside "Entreamigos" in 2011, the program has outgrown its space.  After receiving permission from the state and a basic remodel of an old agro-industrial warehouse, the new Bodega Circo became the home of Circo de los Niños de San Pancho in 2014. New instructors native to Mexico came to join the team and the program was redesigned and implemented.  In the first cycle at the new space, the program enrolled 67 students. Again, thanks to the generous donation of Gilles St. Croix, Monique Voyer and private donors who made this transition possible.
Once inside its new space, the program completed its first two cycles with a new production "Dar a Luz" which was created and performed within the same space. The new production "Give Light" tells the history of the project- the birth of an idea which for years was a dream and in our new space has materialized to reality! This show included over 70 young artists participating in the training and creative process.
Currently, more than 140 children are enrolled in Circo de los Niños programs. Recently, the new Bodega Danza (adjacent to the Circo class space) was inaugurated as yet another performance and training space offered to the local and visiting community. Apart from obtaining space for its school, Circo de los Niños  operates a cultural center, open to proposals from individual performers and groups with interest in participating in the project.
Mission
Encourage the holistic development of youth and young adults by improving their artistic, creative, motor and communication skills, as well as strengthening their confidence in taking risks in a secure and safe environment. Circo de los Niños de San Pancho offers a quality program in Circus Arts instruction focused on empowerment at the human level.
Vision
Circo de los Niños aspires to be an artistic, mulitidisciplinary and sustainable organization and venue within the Banderas Bay region which offers quality cultural experiences for those participating in its program as well as the general public attending its shows and events.
Itantehuitl Barona Rodiles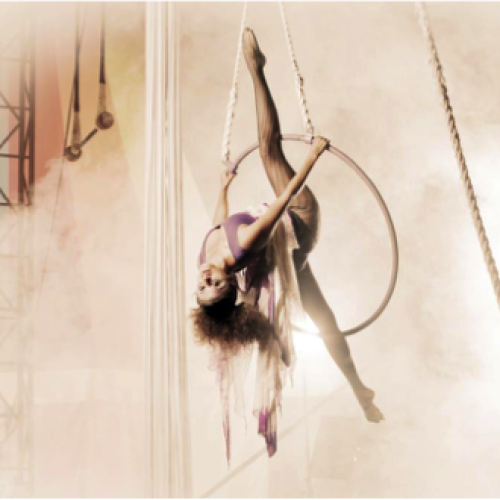 Originated in Mexico City, D.F. (born on July 29, 1984). She began her studies in performing arts in particular Dance since the age of 15. She continued her studies in Contemporary Dance in the "ESDAM" (Cuernavaca, Morelos). Thereafter, her studies took her to Cirko de Mente´s Diploma program (Mexico) where she specialized in Aereal Dance and manipulation of Hula Hoops. Since completing her course, she has performed in varios stages and festivals such as "Cirkonvención Mexicana en el 2013", "Festival Ozomatli" 2013 y 2014; formed part of the production ¡SUS-SE-SOS! (under the direction of Gerardo Trejo Luna. Additional presentations include: Inagural Gala of the "Décima Bienal De Radio Internacional" , "Rio grande theatre " in the City of Crosses in New Mexico, USA. In addition to her carreer in Circus Arts, Itantehuitl hold a Master´s Degree in Neuropsychology from the Universidad Autónoma del Estado de Morelos. She has more than ten years of experience working closely with children and six years as an Instructor in Circus Arts.
Originated in Cuernavaca, Moreles ( born on December 16, 1987). At the age of 17, Jorge began his exploration of the Circus Arts while studying at the en "Colgner Circus shoüle" in Germany. He is also a member of the first generation of graduates of the Cirko de Mente Diploma Program (Mexico) where he specialized in Juggling. Jorge has participated as a Juggler , joining artists from the production of "OVO" of the company "Cirque du Soleil". Additionally, he has participated in the "UBERLEBENSKUNST" (2006) in Germany. His has worked in various "traditional circus groups in Mexico", formed part of the production ¡SUS-SE-SOS! Under the direction of Gerardo Trejo Luna and the "Cirkonvención Mexicana en el 2013 y 2014". Jorge was awarded Second Place at the del Festival Internacional de Circo y Chou de México 2013. He has six years of experience as an Instructor in Circus Arts.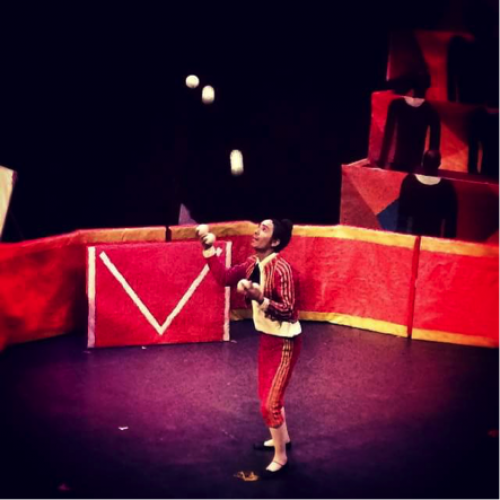 Teacher of Circo de los Niños, since 2018. Training in Acrobalak, by trainers Ricardo Díaz Mendoza and Misael Quintero Reyes (2013- 2018)  Training in Aerial Tapes (Straps) at the School of Circus and Art Contemporary, by Mercurio Amaro (2014-2016); also taking courses with Jonhatan Fortín, the first in 2015 and the second in 2016.  Theatrical training at the Universidad Obrera de México (2016-2017) by the Professor Ana Nolasco.  UNAM 2015- PRESENT. BACHELOR'S DEGREE.  Diploma in the preservation of the athlete by the Benito delegation Juarez (2020)  Studying the diploma in personalized training by EDEN School (2021-present)
The former agro-industrial warehouses now called Las Fabricas (Bodegas) were built by former Mexican president Luis Echeverria who envisioned a thriving social-economic plan for the town with these old factories that produced coconut oil, dried fruit, soaps and dairy products. In the 70´s, some warehouses were abandoned due to political changes in the country.  In the next decades, these buildings were occupied while some stayed empty. In the summer of 2014 (?), the Circo de los Niños de San Pancho received permission from the State of Nayarit to install its first training space for up to 80 students.
Since then, Circo de los Niños de San Pancho occupies over 1200 square meters of warehouse space where more than 150 students learn the Circus Arts, Dance and Performance Arts. Our space is equipped with donation of previously used acrobatic, gymnastic, and aerial equipment from the Cirque du Solei Foundation.  In 2015, the new dance area as well as a black-box stage were built offering  opportunites for more classes and a new performance space for the community.
Circus area, Dance studio and Forum/Stage are available for private rentals and special events.  We accept proposals for instructors in varios Performance (Theater, Dance and Circus Arts) who are interested in offering classes.  For more information and details on rental/usage agreements, contact us directly.